Mercedes Dorame: Making art on Tongva land
Native American Indigenous artist and UCLA alumna Mercedes Dorame will deliver the keynote address at the UCLA School of the Arts and Architecture's 2022 commencement ceremony on Saturday, June 11th at 4 p.m.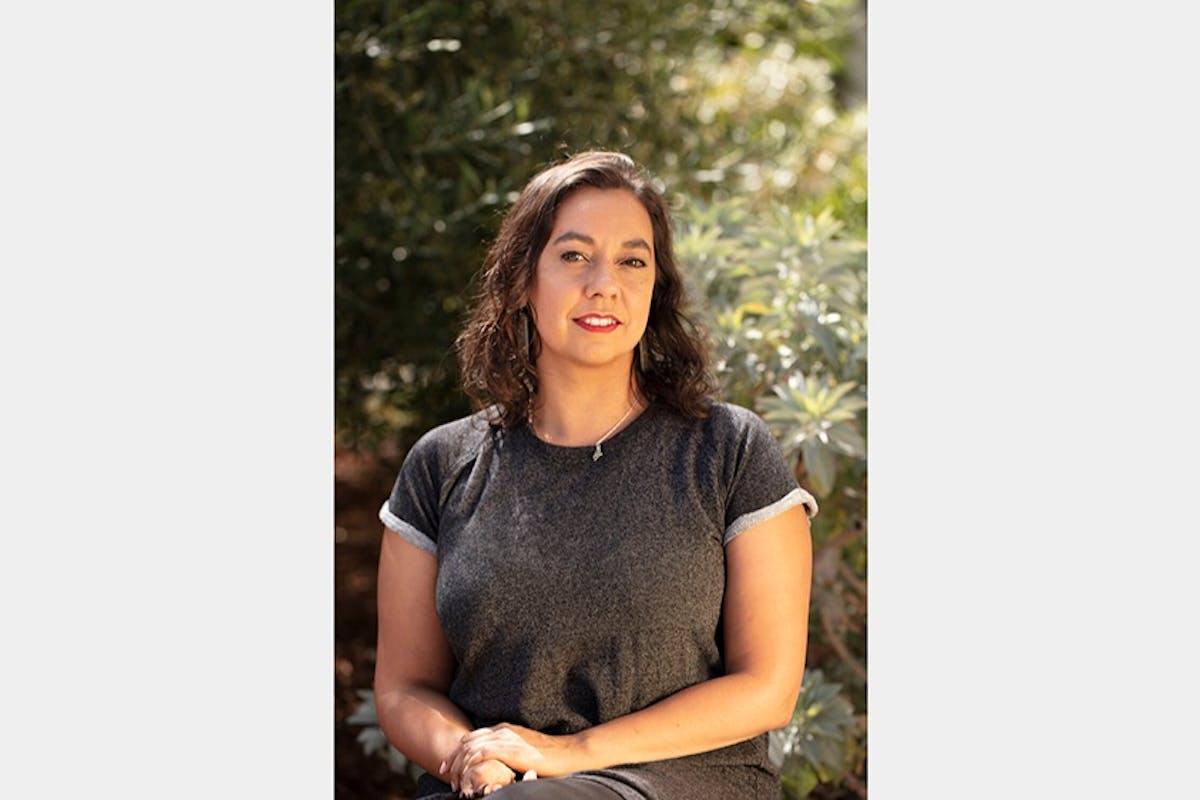 Native American Indigenous artist and UCLA alumna Mercedes Dorame will deliver the keynote address at the UCLA School of the Arts and Architecture's 2022 commencement ceremony on Saturday, June 11th at 4 p.m. 
This will be the first commencement ceremony to be held in-person since 2019. 
Dorame is a member of the Tongva people, and her heritage connects her deeply to the landscape of California. Her practice, which encompasses photography, sculptural installations, and sound art, explores what it means to be a Native inhabitant of contemporary Tovaangar (present-day Los Angeles). 
Dorame received her undergraduate degree from UCLA in American literature and culture, and an MFA from the San Francisco Art Institute. She was included in the Hammer Museum's Made in LA 2018 biennial exhibition, and in the Fowler Museum's The Map and the Territory: 100 Years of Collecting at UCLA exhibition in 2021. This past fall, she taught Advanced Photography to undergraduate students in the school's Department of Art. 
While she was a student at UCLA, she studied American Indian literature and culture, including taking a class with Joy Harjo, the first Native American to be U.S. Poet Laureate. At the same time, Dorame worked in cultural resource monitoring at ancestral sites around Southern California. Developers are legally required to bring in a cultural consultant whenever Native belongings, artifacts, or human remains are found. 
"It was really that experience of working in the land that propelled me to want to talk about the issues that I do talk about, that are almost always revolving around my Tongva culture," she said. 
Dorame's mother's side of the family is Caucasian, of English and French ancestry. Her father's side is Tongva and Indigenous. She said her Native grandparents didn't celebrate their ancestry because their generation felt pressure to be secretive about their heritage, in part because, until 1924, Native Americans were not citizens of the United States. 
"There were institutional and political impulses to erase and eradicate Native people. So, a lot of my research and artwork got me into this space of trying to understand better why this quietness existed," she said. "What I came to understand by doing this work is it was hidden out of necessity."
Dorame's work involves a literal unearthing of her Tongva ancestry. In works that were displayed at the Hammer she combines photography with objects like rocks, abalone shells, stone bowls, and at the Fowler Museum she curated from their collection of cultural belongings found and archived during archeological collections in her tribal territory.  
"I do think a lot of my work is about pushing out and seeing these elements of the natural world as also being art," she said. 
For example, the glimmering iridescent abalone served as a food source, a material for fishing hooks, and an adornment used for regalia. 
While the Tongva were recognized by the state of California in 1994, they still have not received federal recognition, which means they were not designated reservation land or a repository site for the cultural objects that are collected during excavations throughout the region. For her installation at the Fowler, Our Land and Sky Waking Up - 'Eyoo'ooxon koy Tokuupar Chorii'aa, she laid out particular unearthed objects to provide them a new context. 
"I think about what it means to give objects a new life, a new breath, a new kind of space in the world that makes them alive again," she said. 
The objects were displayed on a blue spiral plinth, laid out like constellations in the night sky. 
"I really wanted it to have this feeling of revolving outward, this kind of overlap of time and space," she said. As opposed to the traditional linear narratives we might be accustomed to, "when you think about family history, stories, narrative, ancestry, cultural stories, heritage, it's messy, and it overlaps, and it's more like a kind of spiraling experience." 
Red yarn extended from that plinth in the Fowler installation to the ceiling. Dorame says the yarn was intended to draw the visitors' eyes upwards, to draw a connection between the sky and the land and to see beyond eye-level. 
Aside from her work in museums and galleries, Dorame intervenes in the landscapes with installations on ancestral Tongva land, both in private spaces and in public parks. 
"I've always seen them as a personal kind of ceremonial expression," she said. Rather than being prescriptive, these installations consider plant and animal life, weather, and other natural elements. 
"I collaborate with the land. I don't go out and say, 'I'm going to incise myself into this space and create this thing that I've constructed in my mind somewhere,'" she said. 
Even as she looks backward to reflect on her ancestry, Dorame's work looks forward as well. Her work establishes a continuum of presence of the Tongva people. She's excited about a new generation taking interest in her culture and in Indigenous perspectives on the human relationship with the environment. 
"Right now, I'm in language classes. We are relearning our language, which was forcibly taken from us. There are absolutely ceremonies and songs and the passing down of culture that has happened," she said. 
When Dorame speaks to the 2022 graduating class at the UCLA Arts commencement on June 11th, she hopes to convey the many paths that may await them. Much like her blue spiral plinth at the Fowler, life doesn't always follow a straight line.
"What I hope to put forward is not to be afraid of that, to embrace that, that sometimes those messy spiraling moments are the most rich," she said. 
Learn more about the UCLA School of the Arts and Architecture's 2022 commencement ceremony here. 
Read More