I tried a sleeping pod at UCLA's new commuter student hub
UCLA's new commuter space, BruinHub, not only provides commuting students a dedicated space to store food and hang out, but it also provides futuristic-looking, jelly-bean-shaped pods for naps.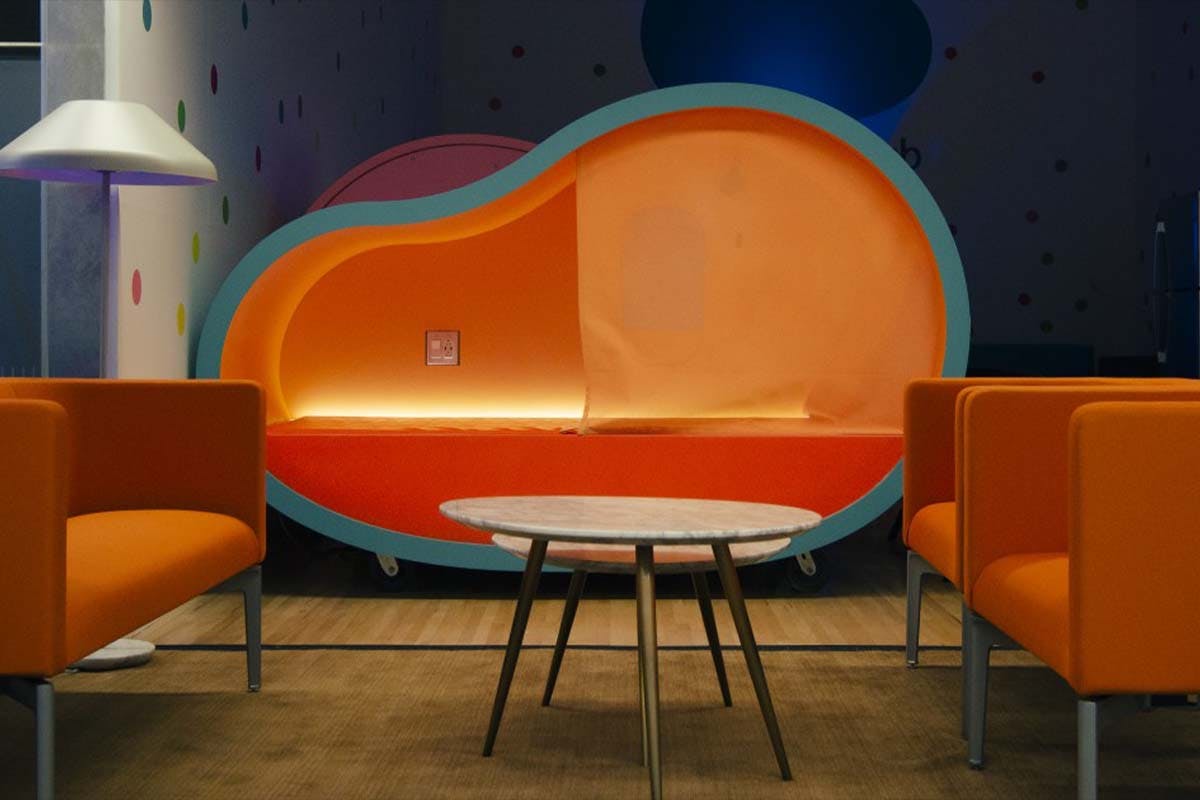 The platonic ideal of university campus design generally includes classroom buildings, an auditorium, a green space, some sort of bell tower and plenty of dorms. In fact, dorm life and university life are often conflated as one. But the reality for countless students on university campuses is that they commute. And in Southern California, those commutes can be very long.
At UCLA, for example, more than half of the undergraduate student body commutes from off-campus. In addition, a 2019 survey titled "My Commute Is Hell" by the university's urbanism think tank cityLAB found that 43% of commuting students had one-way commutes of 60 minutes or more, and of those students, 42% had slept overnight on or near campus rather than endure the long ride back home late at night. For some students, that entailed sleeping in their cars.
Historically, commuting students have improvised hangout spaces on campus for the long hours between classes — in libraries, student centers or other public areas. But over the last several years, campuses have begun to set aside dedicated spaces to accommodate commuting students who may find themselves stuck on campus for hours at a time.
The University of San Diego has a dedicated lounge with couches and a kitchenette where students can store and reheat food. UC Irvine is currently putting the finishing touches on a similar space.
And late last month, UCLA unveiled a new commuter space called BruinHub. It not only provides commuting students a dedicated space to store food and hang out, but it also provides futuristic-looking, jelly-bean-shaped pods for naps. These can be reserved at no charge for two-hour stretches and even overnight. Located inside what was once a racquetball court in the John Wooden Center, the campus recreation building, the hub has good proximity to showers as well.
Dana Cuff, who serves as director of cityLAB, which was instrumental in conducting research on student commutes and designing the spaces, says BruinHub adds to the "continuum of accommodation" that the university can provide. For students who, for economic or personal reasons, cannot live on campus or just off of it (Westwood is one of the most expensive neighborhoods in Los Angeles), BruinHub can provide a safe and comfortable anchor space.
The space is small — containing just five sleeping pods and a small lounge and desk area — but it provides a place to test out designs and receive student feedback. "This is a prototype, not a solution," says Cuff.
The project is a collaboration between cityLAB and numerous UCLA departments, including UCLA Recreation, UCLA Student Affairs and the student organization Bruin Commuters. But it was the team at cityLAB that worked with commuting students to produce a design that was more appealing than, as Cuff says, "Ikea cots in a closet."
Its most iconic elements are the jelly-bean-shaped sleeper pods, painted in bright, sherbet-y colors. These were designed by UCLA lecturer Marta Nowak, a founder of the design studio AN.ONYMOUS, in collaboration with the cityLAB team, which also included cityLAB associate director Rayne Laborde and assistant director Gus Wendel, both of whom worked on some of the early research on student commuting.
— Carolina Miranda, Los Angeles Times, Oct. 9, 2021
Read More