A conversation with Cauleen Smith
New UCLA professor talks about her unique vision and upcoming campus presentation of her work March 9-11.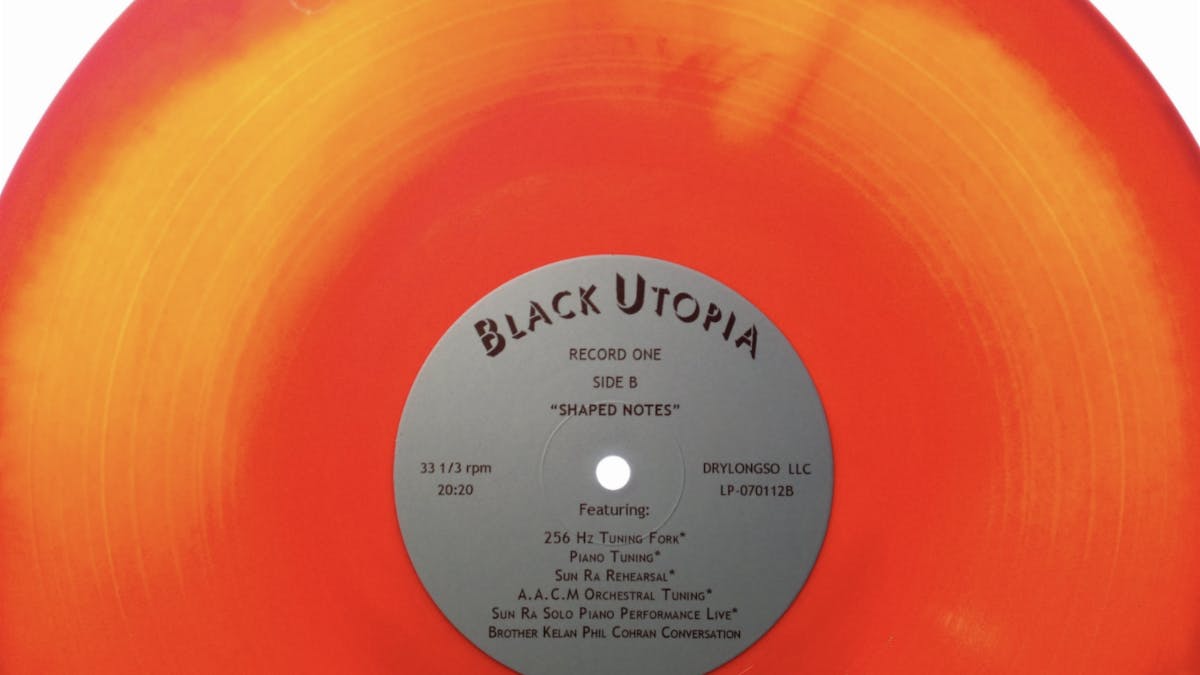 Across different mediums and styles, African diaspora culture and history are centered in the work of artist Cauleen Smith, who recently joined the faculty in the UCLA Department of Art in the School of the Arts and Architecture.
Starting Thursday, March 9, the UCLA Film & Television Archive and Hammer Museum present a collection Smith's work from drawing from her short films and her Afrofuturist sound collage "Black Utopia LP." The evening, titled, Cauleen Smith—In Space, In Time will include a performance from the artist herself.
The nine short films selected of the evening from Smith's body of work were chosen to represent her range across genres and mediums—showing a fluidity that few other media artists have equaled, said Steve Anker, guest curator of the series, which is part of the Archive's "Black Echoes and Imperatives" program. 
"Ranging through radical Black art and culture, feminist resistance and Black history, while utilizing the character of urban environments and her own innermost thoughts and fantasies, Cauleen moves between public and intimate discourse," Anker said. "Evident throughout is her singular spontaneity and ferocious wit, an ability to create haunting metaphors, and a courage to move fluidly between mediums."
We asked Smith to share thoughts on her new venture as UCLA faculty, her upcoming three-night program, and her most recent work, "My Caldera."
How do you feel about your recent UCLA appointment? Was this in your career plan?
I've never had a career plan. This appointment is a tremendous opportunity that supports my research and enables me to live in a community that I can contribute to. I feel immensely honored to be a part of UCLA School of Art and to have such great colleagues.
What kind of courses are you teaching (or looking forward to teaching) at UCLA and why is UCLA the place for them?
I like to teach about light, video sound in space. Installation and social engagement. I like to help my students locate their point of view and help them develop a voice that articulates that in a way that engages others. 
The approach to a film is determined by the project and its content and the conditions it demands. 
So, it always varies. I learned a lot from making a feature film, largely about community engagement and support that I try to carry over into all of my projects. 
Why was Black Utopia LP created as an homage to Sun Ra?
"Black Utopia LP" is really a presentation of all of the research that I gathered from the archives of Sun Ra, photographs of ephemera and objects, and even sound that did not make it into the final works that I made. 
Moreover, this research led me down many interesting rabbit holes of esoteric knowledge and histories. I wanted to share what it was like to intellectually apprentice myself to a copper like Sun Ra. The only way to share this stuff is within a lecture context. Otherwise I have to pay enormous sums of money to the archives that own this material. So, by making a live presentation, I can share the knowledge in a way that allows the audience to have their own experience and engage their own curiosities.
What about Chicago made it a standout to be featured and centered in The Way Out is the Way Two?
Chicago is a city that births Black geniuses with an astounding frequency. The culture produced by Black creatives, intellectuals, composers and activists is astounding. Chicago is the city that enabled Herman Blount, an aspiring band leader from Birmingham Alabama to become Sun Ra, one of the greatest composers of the 20th century. I wanted to explore the city and attempt to locate the ways that this astounding cultural output is cultivated.
How would you describe your latest work My Caldera? How does it differ from previous work?
"My Caldera" is a film and an installation in which I begin to talk about the relationship between time, culture, disaster, and beginnings. What is possible after the apocalypse? For many people in the United State, the apocalypse already happened. I want to look at how those of us who have emerged from the complete destruction of our worlds have emerged and even thrived amidst the ruins in which we currently live. I was particularly excited to create a process for printing on 35mm film that can take a digital image and transform it into something tactical and material and visceral in a way that digital video does not achieve for me. This heavy metal materiality of the Volcano is, for me, both the end and the beginning of possibility. 
Every project I do is very different from the other. Even if I repeat a tactic, like banner making, the feeling and effect is specific to the content.
How do you navigate different mediums in the creative process? 
I just like learning how to do stuff. A curiosity about materials allows me to discover the ways that a medium can best impart a particular concept. Wax, ceramics, film, textiles - they all do different things to different effect. I like to deploy stuff in a way that amplifies its powers rather than forcing a medium to do something that it doesn't innately want to do.