New faces at UCLA International Institute in 2022
New faces will people the halls and events of the UCLA International Institute in 2022, including new associate vice provosts, center co-directors and academic program chairs.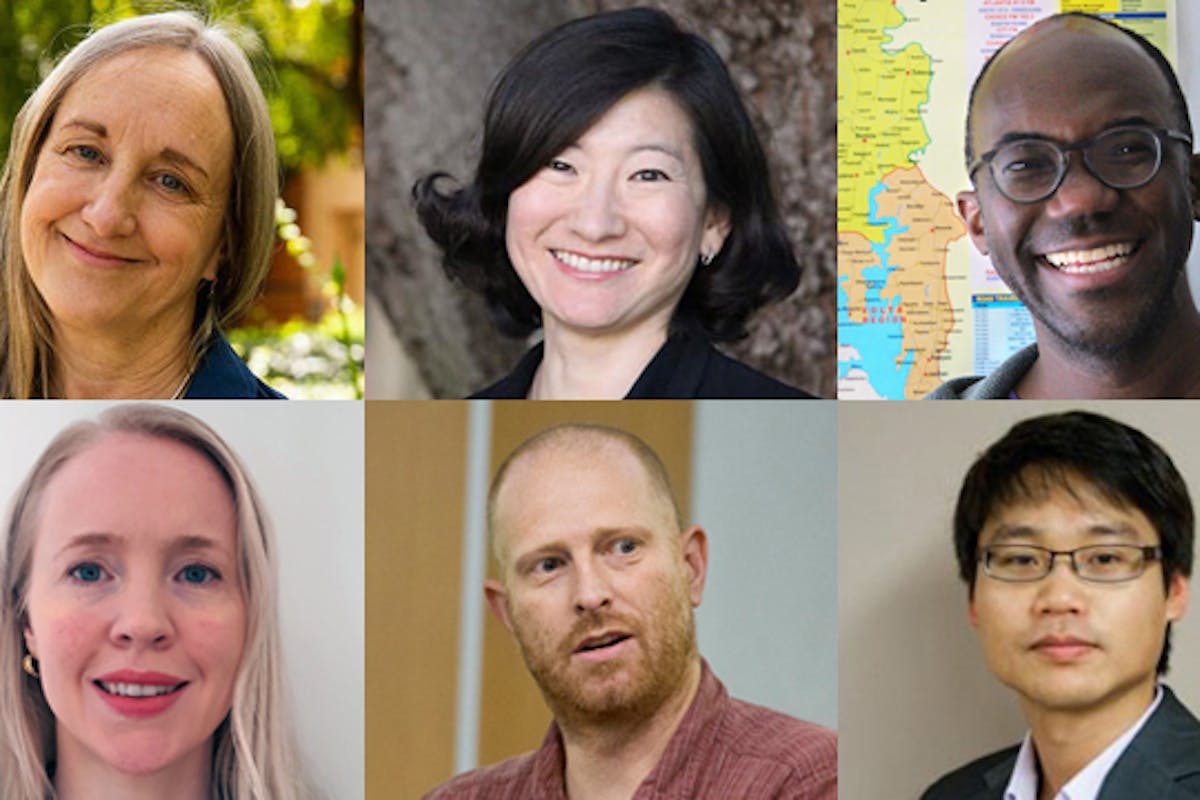 Marjorie Faulstich Orellana, professor of urban schooling at the UCLA School of Education and Information Studies and former associate director of the UCLA Center for the Study of International Migration, became associate vice provost of the UCLA International Institute on January 1.

A specialist on the educational experience of immigrant youth in urban schools and their role as cultural brokers for their families, Orellana is currently engaged in a large research project that is tracking the impact of COVID-19 on families in 10 countries. She is the author and/or editor of four books, the most recent of which are "Mindful Ethnography: Mind, Heart and Activity for Transformative Social Research" (Routledge, 2020) and "Language and Cultural Processes in Communities and Schools" (Routledge, 2019); as well as numerous book chapters and peer-reviewed journal articles.

Orellana will also serve as interim chair of the institute's International Development Studies (IDS) Program through the end of June 2022. As of July 1, 2002, institute faculty member Jennifer Chun — who has a joint appointment in the Asian American studies department — will become chair. Chun is a sociologist whose research focuses on global labor organization, with an emphasis on South Korean and Asian American immigrant communities.

Chun has deep roots in community organizing and works closely with the scholars of the UCLA Labor Center. The author of "Organizing at the Margins: The Symbolic Politics of Labor in South Korea and the United States" (Cornell, 2011), Chun has also co-edited publications that distill the findings of two major transnational labor research projects: "Care Work in Transition: Transnational Circuits of Gender, Migration, and Care," published as a special edition of Critical Sociology (Vol. 44: 7–8) and "Gendering Struggles against Informal and Precarious Work," published as Vol. 35 of Political Power and Social Theory.
Chun currently serves as interim equity advisor for the International Institute (2021–22) and chairs the faculty committee that organizes an ongoing racial justice webinar series: Global Racial Justice and the Everyday Politics of Crisis and Hope (2021–22) and Black Lives Matter: Global Perspective (2020–21).

At the African Studies Center (ASC), Associate Professor of Linguistics Harold Torrence became co-director of the center alongside UCLA historian and anthropologist Andrew Apter on January 1. Torrence has chaired the UCLA International Institute's African Studies M.A. Program since 2018.

Torrence brings deep expertise in African languages to ASC. Not only is he a specialist on Wolof, he has published on Krachi and Ibibio and is an expert on the Mesoamerican languages of Mixtec and Kaqchike. He is the co-editor of two major publications: "Africa's Endangered Languages: Documentary and Theoretical Approaches" (Oxford, 2017) and "African Linguistics on the Prairie" (Language Science Press, 2018), which address endangered African languages and African prairie languages, respectively.

The UCLA linguist is also engaged in an ongoing project to train U.S. and Ghanian linguistics students to conduct field research on two mountain languages, Avatime and Logba, as well as the principal investigator on a major collaborative research project on more than 15 Mesoamerican languages (consisting of a team of graduate students and scholars from Mexico, the U.S., Canada and France).
Torrence's co-director Andrew Apter is also deeply versed in African languages and teaches Yoruba classes at UCLA through the International Institute.

Another new addition to the institute's leadership roster is Anna Morcom, professor of ethnomusicology at the UCLA Herb Alpert School of Music, where she is Mohindar Brar Sambhi Professor of Indian Music. Morcom will serve as co-director of the Center for India and South Asia (CISA) alongside Akhil Gupta, professor of anthropology and former president of the American Anthropological Association, through the end of June 2022, after which she will become sole director of the center.

Morcom joined the UCLA faculty in 2018 and specializes in interdisciplinary ethnographic research on traditional and popular music and dance in India and Tibet. She is the author of three monographs, the most recent of which — "Illicit Words of Indian Dance: Cultures of Exclusion," (2013, Hurst and Oxford) — won the prestigious Merriam Prize of the Society for Ethnomusicology and the Marcia Herndon Prize of the Gender and Sexualities section of the Society for Ethnomusicology.

Morcom's other works include the books "Unity and Discord: Music and Politics in Contemporary Tibet" (2004, Tibet Information Network), "Hindi Film Songs and the Cinema" (2007, Asghate; 2016, Routledge), numerous articles in peer-reviewed academic journals and a video compact disc (VCD) of Tibetan songs with singer Tanzin Gyatso,"sPrin Gui Metok" ("Cloud Flowers," 2006).

The institute's Academic Programs welcomes UCLA geographer Adam Moore as chair of the institute's International & Area Studies (I A STD) Program  — which offers a range of undergraduate interdisciplinary majors and minors on specific regions of the world. Moore joined the UCLA faculty in 2011 with a joint faculty appointment in the institute and the geography department.

Moore's research focuses on the spatial dynamics of violence and peace. He has taught in the I A STD program for over 10 years, where his classes include a required introductory core course and a senior seminar that has addressed such topics as victimhood nationalism and post-World War II population displacement. He has been an active member of the institute's curriculum committee and regularly serves as a faculty advisor to students working on senior theses and honors research papers in the global studies and international development studies programs, respectively.

The author of two monographs, Moore has received awards for both books from the American Association of Geographers: "Empire's Labor: The Global Army that Supports U.S. Wars" (Cornell, 2019), winner of the association's Global Book Award for Public Understanding of Geography; and "Peacebuilding in Practice: Local Experience in Two Bosnian Towns" (Cornell, 2013), winner of the Julian Minghi Distinguished Book Award of the association's Political Geography Specialty Group.

Looking ahead, David C. Kim, professor and vice chair of undergraduate studies in the department of European languages and transcultural studies at UCLA, will become a second associate vice provost of the International Institute on July 1, 2022.

Kim is a faculty affiliate of both the Center for European and Russian Studies and the institute's Global Studies Program, for which he will launch a new travel study program on human rights at The Hague in summer 2002. He also currently serves as interim faculty director for the International Education Office (2021–22). The UCLA scholar is a recipient of several teaching awards, including the distinguished teaching award of the UCLA Academic Senate.

Kim's research interests span postcolonial and migration studies, international human rights, cultural and political theories and global literary history. His most recent publications include the edited volume, "Reframing Postcolonial Studies: Concepts—Methodologies—Scholarly Activism" (Palgrave Macmillan, 2021), and the monograph "Cosmopolitan Parables: Trauma and Responsibility in Contemporary Germany" (Northwestern, 2017). He is also the editor or co-editor of "Teaching German Literature for the Twenty-First Century" (MLA, forthcoming 2023), "Globalgeschichten der deutschen Literatur" (Springer-Verlag, forthcoming 2022), "The Postcolonial World" (Routledge, 2016) and "Imagining Human Rights" (De Gruyter, 2015).

Kim has published numerous peer-reviewed articles in such journals as The German Quarterly, Monatshefte, Gegenwartsliteratur and Journal of Translation Studies. He is currently working on monographs that consider Hannah Arendt's concept of solidarity and the animal-citizen relationship, respectively.

The UCLA International Institute welcomes these new faculty members to its leadership team and looks forward to working with them in their new positions.
Read More